CSIO Celebrates Last Year's Industry Successes at its 2023 Members' Meeting and Reception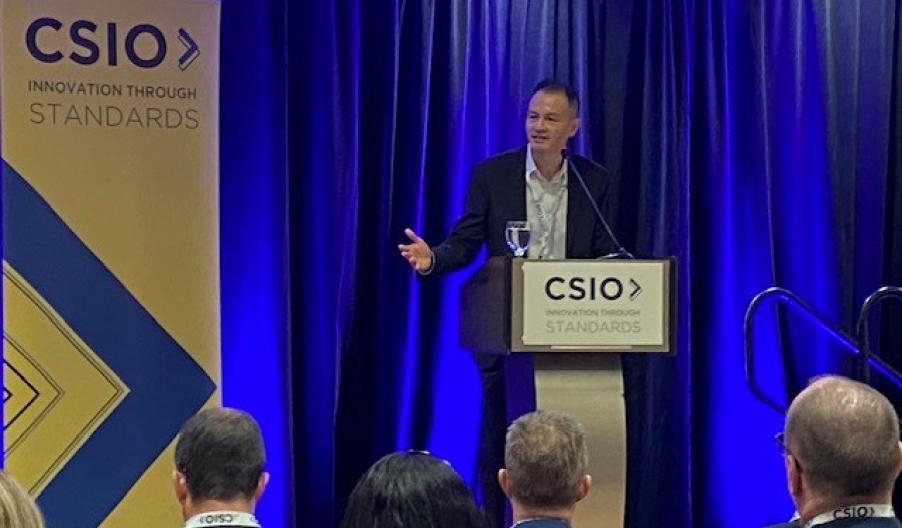 (Toronto – April 21, 2023) – On Thursday, April 20, CSIO hosted its 2023 Members' Meeting and Reception at the Sheraton Centre Toronto Hotel. This marked the first time since 2019 that the event was held in-person. Attendees were treated to highlights of CSIO and its members' 2022 achievements, a keynote address titled Outlook 2023 – Cold in the Forecast by Douglas Porter, Chief Economist at BMO Financial Group, an awards ceremony for CSIO members, and a reception.
2022 Highlights
Catherine Smola, President and CEO of CSIO commended the Innovation and Emerging Technology (INNOTECH) Committee and its Working Groups for further developing Application Programming Interface (API) Data Standards to address the gap in real-time data exchange between broker management systems (BMS) and insurers' systems. They did this by publishing API Standards in Java Script Object Notation (JSON) for Individually Rated Commercial Automobile (IRCA) and Commercial General Liability (CGL) policy inquiry, and finalizing business requirements for 40 new use cases to fully deliver on their 2022 API roadmap. 
Smola also highlighted the INNOTECH Advisory Committee and its API Security Working Group publishing the industry's first API Security Standard. "Their accomplishment alleviated a major pain point by providing insurers and vendors with a programmable Standard that authenticates and authorizes brokers to connect with insurers' systems via APIs," said Smola. 
The achievements of the Commercial Lines (CL) Working Group were covered in Catherine Smola's remarks as well. Notably, finalizing requirements to bind multi-operations small commercial business, establishing requirements for the small business real estate segment, and creating the CL Real-Time Quote Savings Calculator that demonstrates the value of working with insurers and vendors who programmed the CL Standards into their systems to brokers. 
Furthermore, Smola spoke about enhancements to My Proof of Insurance, Canada's leading solution for digital document delivery. These include improved speed and security, in addition to new functionality for sending digital proof of auto insurance (eSlips) for garage policies.
Lastly, Catherine Smola praised CSIO's Professional Development milestones, saying "we had a record 1,400 course enrollments, more than 2,000 webinar attendees, and 211 members earned their CSIO Digital Member designation by completing a minimum of six courses."
During the awards portion of the event, Smola recognized Applied Systems Canada, Northbridge Insurance, Unica Insurance, Van Allen Insurance, Vertafore Canada and The Wawanesa Mutual Insurance Company for leading the industry in Standards adoption, and commitment to excellence in education.
Introducing CSIO's new Chairman of the Board, Michael Lin
It was announced at CSIO's 2023 Members' Meeting and Reception that Michael Lin, Chief Information Officer (CIO) at Travelers Canada has been appointed Chairman of the Board. Mr. Lin has over 14 years of experience as a CIO across multiple organizations, served on the CSIO Board of Directors for four years, and has a wealth of expertise in leadership and insurance technology. As CSIO's newly-elected Board Chairman, Mr. Lin had a key role in hosting CSIO's 2023 Members' Meeting and Reception.
CSIO welcomes its newest members of the Board of Directors: 
Michael Loeters, Senior Vice President – Commercial Insurance at PROLINK Insurance
Cam Muckosky, Vice President, Digital Delivery at The Wawanesa Mutual Insurance Company
Aaron Newell, Vice President, Governance & Analytics at Aviva Canada
Kicking off CSIO's Multi-Year Strategic Plan
CSIO's 2022 accomplishments were instrumental to achieving the goals on its previous strategic plan and also laid the foundation for its next multi-year strategic plan that will run from 2023 until 2025. The plan has been approved by CSIO's Board of Directors and will guide CSIO and its members in creating and enhancing the Data Standards, solutions and services that drive innovation in the Property and Casualty (P&C) insurance industry. The following pillars represent the plan's three key areas:
Pillar 1 – Develop, Govern and Promote CSIO Data Standards
Pillar 2 – Develop Secure and Reliable Solutions
Pillar 3 – Shape Solutions for a Seamless Experience and Grow our Education Program
To learn more about everything CSIO achieved last year, check out the CSIO 2022 Annual Report. CSIO's updated Board of Directors can be found here. 
-30-
About Centre for Study of Insurance Operations (CSIO)
CSIO is Canada's industry technology association of property and casualty insurers, service providers and over 38,000 brokers. CSIO is committed to improving the consumer's ease of doing business within the broker channel by overseeing the development, implementation and maintenance of technology standards and solutions such as eDocs, My Proof of Insurance, and eSignatures. In addition, CSIO operates the industry-owned mail network service. The CSIO XML Standard is licensed to CSIO by ACORD (Association for Cooperative Operations Research and Development). For more information, visit csio.com. 
For further information, please contact:
Debbie Vassos, BBA, CDMP | Manager, Marketing & Communications
110 Yonge Street, Suite 500 | Toronto, ON M5C 1T4
(416) 360-1773 x 1721 | 1 (800) 463-2746 x 1721
dvassos@csio.com | www.csio.com